Those Northern Lights, So Pretty will showcase two North East based artists, Dominic Smith and Toby Lloyd, through two month long residency's during the period of the Great Exhibition of the North. Taking place in various locations around Bensham & Saltwell, such as Saltwell Park, Shipley Art Gallery and Gateshead Library, the residency's will consider the themes of heritage and environment framed by the context of living, playing and working in Gateshead.
Through a series of workshops the artists will work with local people and groups to develop artwork that will presented in the Shipley Art Gallery in late 2018. To find out about how to get involved email info@dingybutterflies.org or follow us on Facebook or Twitter.
Dominic Smith – The Saltwell Park Game (July 2018): Working closely with the Friends of Saltwell Park, a local school, community groups and local residents he will use the idea of 'critical play' as a starting point to learn about Saltwell Park, its heritage and the meaning of this heritage to its contemporary population. The creative outcomes and findings will be mapped to create an engaging, participatory game-based artwork that will be developed, tested and be available to play in Saltwell Park. It will be printed and available online for anyone to pick up at various venues as well as download for free to play in the park.

Toby Lloyd – Six Honest Servants (August 2018): Toby will explore questions concerning public and private spaces and services, asking questions such as what are they, how do we access them, and who control's them. Workshops will take place in Gateshead's pubic and private spaces, such as Saltwell Park, Shipley Art Gallery and Gateshead Library and explore how the people of Gateshead interact with them and consider what they see as public space and what they see as private. Workshops will include map making and the mapping of Gateshead areas that participants use, which services they use, how these have changed over the years. From these discussions Toby will develop a series of artworks, posters and a video artwork.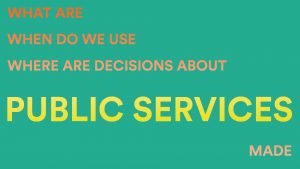 The project is supported by Gateshead Council and Durham University